This week's What's Up Wednesday will be the last one for the time being! All three of us hosts (Ashley, Shannon, and I) have got so much going on right now that we're putting this link up on the shelf. Hopefully once things quiet down for us we'll be able to bring it back!
This week we have Amanda from Somewhere Over the Camo Guest hosting! I love her blog and I think you should head over and check it out too!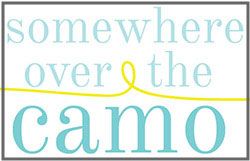 As this is the last week for a while, I highly suggest you get in on this!
What I loved about the past week// Well, this weekend I got to spend time with my family and my boyfriend, so that was great. I got some home-cooked meals and I was super happy to just sleep in my bed at home.
What I'm looking forward to// I'm looking forward to Thursday! Jake is coming here for the weekend and I'm so excited! I saw him basically all weekend, but it will be awesome to have him here! It's like a little staycation for me.
What my latest obsession is// Well, I ended up purchasing a new MacBookPro...And I am so in love with it. I have barely left the thing alone since I bought it. But I want to use it as much as I can...It hurt my heart to spend that money, but I'm super happy with the decision...It had to happen.
What I've been daydreaming about// All I can think about is the semester ending and life being simple again...no homework or papers. I just can't wait.
What I'm watching// I started watching Sons of Anarchy today. I'm only one episode in, but I can already tell I'm going to love it.

What I'm listening to// This band called the Railsplitters. I can't stop. They're releasing a new album in May and I would highly recommend it to anyone who loves music.
What I'm craving// I've been wanting Mexican food lately...Last night I was feeling some Taco Tuesday action.

What I'm doing this weekend// Like I said before, Jake is coming down and we're going to do all kinds of great things together.

What else is new?
Basically...I'm super happy. I had no idea that things were going to end up this way, but I'm pretty glad they did.