Whoa...did we seriously make it a whole month doing this weekly link up?! I'm super proud of that. It's hard, but so rewarding. I'm loving getting to know new bloggers and reading all these posts with all sorts of different stuff that's well...up.
Before adding your link, please visit this page for the guidelines!
Today we have a new awesome guest host with us! Meet Elizabeth!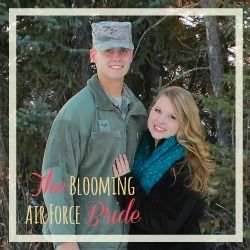 She blogs over at The Blooming Air Force Bride. Head over and see what's up with her!
What I loved about the past week// I loved that I finally got to eat Cafe Rio...For the first time in a few weeks I allowed myself to indulge.


What I'm looking forward to// I am looking forward to the end of the semester. Are we there yet?

What I'm nervous about// I'm nervous about everything. I seriously get nervous about nothing and everything all the time...I should probably look into that.


What I've been daydreaming about// I am still dreaming about the beach. All I want to do is slather on some sun screen, lay in the sand and forget about school for fifteen minutes. Is is Spring Break yet? Photo taken in 2009, Don't freak about the hair...I'm also day dreaming about those shades...Where did they ever get off to?
What I ate for dinner last night// I had some taco bell...Bad idea.
What I'm doing this weekend// All I know for certain about my weekend is that I have to work just like all the other weekends.
What else is new? Not a whole lot is new for me this week! I'm working hard on lot of my school stuff and staying focused So I guess that's good! What are you up to?
*Next week we will be adding some new questions! Here they are for your convenience! Hope you'll join us!*
What I loved about the past week//
What I'm looking forward to//
What my latest obsession is//
What I've been daydreaming about//
What I'm doing this weekend//